Friday, December 21, 2012
"I have not seen the father of my child in a while. I live here (Nigeria) and he lives abroad (UK), though we talk on the phone often. I come from a very strict family so my parents were a little disappointed when I got pregnant because they were hoping I would get married first but you would have to agree with me that it's not everybody that has to get married before having a child. It happened, and I wouldn't because I have to get married first abort my child. Being a single mother is not easy but I manage. How do I deal with my sexual feelings since he's not here? That's when the phone comes in. When I hear him, it's all fine. It may not work for other people that way, but it works for me. And there's no truth in the reports that my man is a married man. I don't go for married men and to the best of my knowledge he's not married.
- Actress Grace Amah said in a recent interview
Thursday, December 20, 2012
Limo ride from the airport
Psquare and their manager/brother Jude are in Uganda right now for their concert holding tommorrow at the Lugogo Cricket Stadium, Kampala Uganda.
See More Photos AFter The Cut..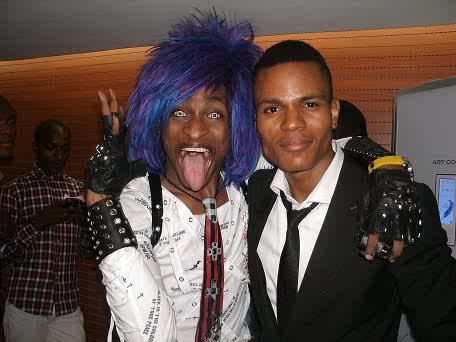 I do not know what to think or say about this picture. But this Denrele guy looks like either a Zombie or a Vampire. See his eyes.
But I like weird people like him. Just be yourself and be different.
Manchester City and Coted'ivoire player, Yaya Toure, 29, has been named as CAF's African Footballer of the Year, for the second time in a row. He beats Drogba and Alex Song.
But my question is does Yaya toure deserves to beat Drogba for this award? Yaya won premiership while Drogba won Almighty Champions League. Please my people who deserve this award between them? Caf is annoying!!
"This night is so special for me," Toure said, after he received his plaque in Accra, on Thursday night. "Thanks to all of you. Even my captain is here today. Thanks to everyone and we are happy for this award."
Winners of the other categories are:
National Team of the Year – Zambia
National Women's Team of the Year – Equatorial Guinea
Club of the Year – Al Ahly
Fair Play Award – Gabon Supporters Union
Coach of the Year Award – Herve Renard
Most Promising Talent Award – Mohamed Salah (Egypt)
Women's Footballer of the Year – Genoveva Anonma (Equatorial Guinea)
Referee of the Year – Gamal Hymoudy (Algeria)
Caf Legend of the Year Award – Rigobert Song (Cameroon) and Mahmoud El Gohary (Egypt)
African Player of the year – Based in Africa – Egypt's Mohamed Aboutreika – Al-Ahly
Zambia's Rainford Kalaba – TP Mazembe
Zambia's Stoppila Sunzu – TP Mazembe
Report reaching us says actressNkiru Sylvanus and ex-Mr Nigeria Kenneth Okolie have been released by their kidnappers after five days.
The Nollywood actress and ex-Mr Nigeria, who were kidnapped on Monday in Owerri were freed Thursday evening.
The captors reportedly tied their eyes and dropped them off at an unknown location where they were able to call friends to come pick them up.
It is not known yet whether ransom was paid or not.
Nkiru Sylvanus is also the Special Assistant on public matters to Rochas Okorocha, governor of Imo State.
The state government few days ago announced a substantial reward to anyone with useful information about the whereabouts of the abducted actress.
Though details of the incident were still sketchy at press time, it was learnt that the abductors have established contact with her family and have demanded a ransom of N100 million.
The WINTER WONDERLAND Children's Theme Partywas hosted by Tuface on Tuesday 18th december.
 
He took his wives and kids along with him and they had fun
More pics after the cut....